Elites get the relief.Masses wait to be rescued!Meanwhile, climate change continues to wreak havoc in real time!
https://www.youtube.com/watch?v=j4vkLSSgd7o
Palash Biswas
Indian Media continues the in camera focus on the political leadership and the continuous political drama as official version creates yet another flood and all calamities go beyond control as relief and rescue packaged with political equation.The economy,industries and business suffer very much and the masses,specifically the Have Nots suffer most!It is the Chemistry of Calamity!
I am not sure if the disaster and its impact have been reduced or managed at all!But reports from Chennai heralds some relief if not rescue from the plight of the suffering masses.The elite class might have some escape routes as it seems!
However I am happy to note that Social media has come handy for rescuers in flood-ravaged Chennai with a desk created by National Disaster Response Force here meticulously monitoring Twitter andFacebook posts round-the-clock to ensure help at the earliest. 
I always call for the use of information technology to address the calamities!
As I stand for my earlier stance, the call even before the Kedar Jal Pralay,just after the tsunami that beside trade and diplomacy,we should stand together beyond borders to create a common multilateral disaster management tracking and at least the system to reduce the impact,if we might not stop the calamities!
The Himalayan Voice based in United Sates of America interviewed me on Skype and aired the video on You Tube which is not Available at present or I should have shared yet again!
Here you are!
THE HIMALAYAN DISASTER: TRANSNATIONAL DISASTER MANAGEMENT MECHANISM A MUST
We talked with Palash Biswas, an editor for Indian Express in Kolkata today also. He urged that there must a transnational disaster management mechanism to avert such scale disaster in the Himalayas. http://youtu.be/7IzWUpRECJM
Meanwhile, climate change continues to wreak havoc in real time.
Meanwhile,Chennai airport to allow ferry, technical flights!
हिमालय भी अबहुं परमाणु बम! ऐन मौके पर एकदम सबसे जरुरी संकटकाले अमेरिका ठप्पा भौत काम की चीज ह।एकदम जरुरी भौत काम की चीज!वरना नंगा!
गधवा भी दुलत्ती झाड़ै ह।हम ना देखल वानी।
The rains in Chennai, India have broken a 100-year-old record. The image above was taken back in October. (image: McKay Savage/Flickr)
Red Alarm pronounced:If all the 2,440 coal plants in the pipeline were to be built, by 2030, emissions from coal power would be 400 percent higher than what is consistent with a 2°C pathway, says the "Coal Gap" report, which was released in Paris on Tuesday. Using data from Earth Island Institute's CoalSwarm project's updated Global Coal Plant Tracker, the researchers calculated the effect of coal-fired power on global emissions and concluded that even with no new construction, in 2030, emissions from coal-fired power generation would still be more than 150 percent higher than what is consistent with holding warming below 2°C.
The researchers based their assessment on planned new coal plants both globally, and in the eight countries that each plan to build more than 5GW of coal power capacity: China, India, Indonesia, Japan, South Africa, South Korea, the Philippines, Turkey — plus the EU28. In emerging economies, like India, the plants are being planned in hopes of meeting rapidly increasing electricity demand, while in the EU28, new coal plants will mainly replace existing capacity.
Chennai 
airport, where flights were suspended till Sunday in the wake of floods, has been declared fit for operating technical ferry and relief flights but it has not been said from when. 
Following inspection of runway and other areas, the aerodrome was declared available for limited day time operations, under visual meteorological conditions for technical ferry and relief flight from Chennai airport, and subsequently upgrade to all weather operations as and when facilities are restored, an AAI statement said. 
Earlier, Airports Authority of 
India 
(AAI) Chairman R K Srivastava had told PTI, "Flight operations from Chennai airport will resume partially from tomorrow. The flights will operate during the day time." 
The airport would open at 6 AM and flights would operate till day light is there, he said. 
The runway has been cleared for operations after inspections by officials and experts, another AAI official said. 
On December 2, AAI had announced that the airport would be shut till December 6 after heavy rains caused flooding of the runway and nearby operational areas. 
"Chennai Aerodrome has been closed up to 12 noon of the December 6, 2015. The situation is being closely monitored and any further action will be taken subject to review for resumption of services as soon as possible," the AAI, which runs the airport, had said on December 2. 
On an average, Chennai airport handles 320 landings and departures. As many as 20 international airlines operates from Chennai airport apart from most of the domestic carriers. 
The AAI, later in a statement, said that at 1730 hours the water has receded in the manoeuvring area at Chennai airport and the Runways and the taxiways are clear of water. 
The FODs (Foreign Object Debris) have been removed from the operational area and required repair work on runway and taxiways has been carried out, it said. 
Serviceability status of all airport systems, inter alia communication, navigation and surveillance (CNS) equipment, IT systems, Met equipment are under evaluation, the AAI added. 
In the meantime, AAI team carried out inspection of the operational area and in consultation with all the stakeholders including all airline operators and regulatory authorities.
Social media has come handy for rescuers in flood-ravaged 
Chennai 
with a desk created by National Disaster Response Force here meticulously monitoring Twitter and
Facebook 
posts round-the-clock to ensure help at the earliest. 
The desk at the headquaters here was created at the instruction of NDRF chief O P Singh that there should be no delay in reaching out to the people who have managed to upload their posts on Twitter or Facebook. 
It has picked up over 1,000 tweets and posts and also provided response about the status of the requests. 
The 
Information Technology 
wing of the force, which is being manned round-the-clock by a posse of over a dozen NDRF personnel, is posting assurances to every SoS message made online in the wake of the flood crisis in the southern metropolis. 
The force is responding with messages like 'noted', 'we will do the needful', 'will do our best possible', 'noted and passed to field teams' and 'pls provide full address' to calls for help by Chennai dwellers. 
Singh is getting hourly updates on his personal mobile phone about the social media response of the force and has also instructed the team to ensure that "each and every" tweet, email, WhatsApp message, SMS or phone call is acknowledged. 
"We have been getting these messages for the last three- four days... Initially, we used to pick the information and send it across to our field units in Chennai and Arakkonam for immediate action, but I thought we need to personally assure the people who either seek help themselves or on behalf of their family or friends. 
"Half the battle is won when our official Twitter handle or email says 'noted', which is an assurance to say that we are working on the distress call. The person on the other side feels he or she is being heard and cared for," Singh told PTI before taking a special flight to Tamil Nadu for a review of the situation there. 
The 12,000-strong force, at the latest count, had received and responded to 339 tweets on its official handle '@NDRFHQ' or through '#NDRF' along with 501 emails, 613 phone calls and 13 messages on WhatsApp. 
"We pick up information from all social media avenues and immediately send it to our field teams, manned by two DIG rank officers in Tamil Nadu, in an Excel sheet format via the V-SAT system activated exclusively for these tasks," a senior NDRF official said. 
The calls received on the two helpline numbers -- 011-24363260, 09711077372 -- are routed to the NDRF On-Site Emergency Operation Coordination Centre (OSOCC) at Kilpauk in Chennai via satellite phone updates, Information Technology wing head of NDRF Krishan Kumar said.
(REOPENS DEL105) 
Tower firm Viom Networks today said it is working with local relief authorities to ensure its mobile network remains operational in rain-ravaged districts of Tamil Nadu. 
Mobile operators Bharti Airtel and Vodafone have also launched helpline services to trace missing people. 
Viom in a statement said the recent natural calamity has inundated several tower sites in the region, and some of them are located in areas which are now unreachable for diesel refuelling and repair work. 
Despite all the challenges, most of the damaged mobile towers in rain-ravaged districts of Tamil Nadu have been restored, and the company is working to keep up the supply of fuel at the maintenance sites to keep them running, it said. 
To trace missing persons in Chennai, Bharti Airtel and Vodafone have launched a helpline wherein people can call 1948 and they will receive an SMS within 2 hours with their last called location. 
Both the companies have opened 16 retail stores in prominent localities across Chennai offering this free calling and messaging service.
Chennai floods LIVE: Relief flights operating from Arakkonam naval base
Chennai floods: The rains have virtually broken a 100-year record with one day's rainfall covering a month's average.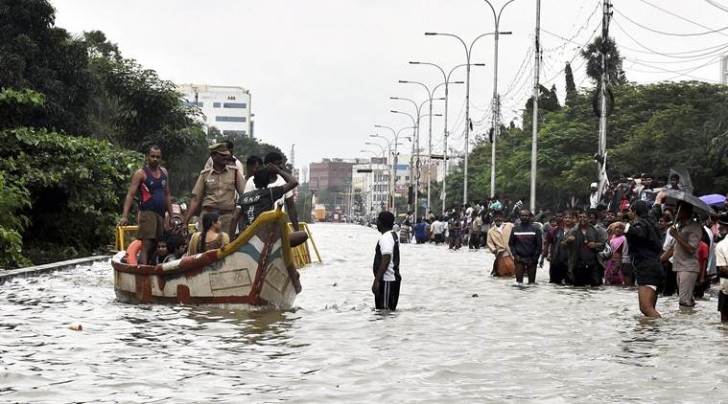 Chennai floods: People rescue from their waterlogged houses during heavy rains in the city. (Source: PTI)
With receding waters, Chennai city and suburbs on Saturday battled hard to pick up pieces of life but occasional heavy rains threatened to revive the ghost of flooding as lakhs of people in the worst-hit areas faced acute short supply of essentials including water, power, milk and food items.
Intermittent rains, occasionally heavy, in the city in areas like Kodambakkam, T. Nagar, Adyar and Kotturpuram and suburban Tambaram today threatened to revive the ghost of flooding again but the weatherman has forecast only light rains for Chennai in the next 24 hours. Heavy to very heavy rains have been forecast for south coastal and interior districts and Puducherry.
Arterial Mount Road and several other important roads were opened for traffic on Friday after three days of disruption bringing a slight sense of normalcy as water levels in Adyar and Cooum rivers and other channels came down following reduced discharge of water from Chembarambakkam, Puzhal and Poondi, and Red Hills rivers dotting the city's outskirts.
Chennai floods: Click here to see pictures  
LIVE UPDATES OF CHENNAI FLOODS:
10:00 am: MoS Aviation Mahesh Sharma says commercial flight services cannot start at the moment at the Chennai airport. He said the services will start once the water is evacuated and power is restored.
9:50 am: Pictures of NDRF rescue operations in Kotturpuram
9:10 am: We are getting more information regarding train services.
State Government has made arrangements for transfer of passengers from Arakkonam Railway Station to Arrakkonam Naval Air Base, says Indigo Airlines
Regular train services will be operated by Southern Railways from Chennai City to Arakkonam at 45 min. interval, they add.
9:00 am: These are some of the relief flights operating from the Arakkonam Naval base:
Spicejet Cochin – Arr 0945 Arakkonam Dep 1115 – Bangalore
Cochin – Arr 1500 Arakkonam Dep 1630 – Bangalore
IndiGo Hyderabad – Arr 1130 Arakkonam Dep 1300 – Bangalore
Bangalore – Arr 1645 Arakkonam Dep 1815 – Delhi
Air India Hyderabad – Arr 1315 Arakkonam Dep 1445 – Hyderabad
Hyderabad – Arr 1830 Arakkonam Dep 1945 – Bangalore
8:25 am: In several parts of the city and on the highways, AIADMK members are forcibly pasting 'Amma' stickers on relief materials. This is being reported across the city.
Saturday, 7:15 am: Over 600 people including more than 130 university students and an old French couple were taken to safety by a coordinated team of defence and NDRF personnel.
Clear weather provided opportunity to the Air Force team to carry our ample number of sorties for relief and rescue operations.
The rescued included both stranded civilians and defence personnel many of whom themselves were unable to move around in the wake of the torrential rains that has pounds the city lately.
Updates from Friday end:
10: 40 pm Helpline numbers in case of emergency or information required during the heavy rains in TN/Chennai. Government helpline- 1070, Airtel helpline- 1948
6:52 pm Chennai Airport to resume partial operations tomorrow: AAI Chairman.
6:03 pm
6:02 pm The Madurai Bench of the Madras High Court has directed Tamil Nadu government to take steps to enable the people stranded in Chennai due to floods to go to their native places in buses free of cost.
3:42 pm The NDRF intensified its relief and rescue operations in the rain and flood-battered Chennai and its adjoining areas as it added 20 more teams for the job and rescued over 10,000 people till now.
2:50 pm
2:35 pm: Tamil Nadu Governor K Rosaiah today lauded the relief and rescue efforts being undertaken by the AIADMK government and the Centre as he took stock of the situation in flood-affected areas of the state.
The Governor also thanked President Pranab Mukherjee for his kind message and words of solace to the people of the state, a Raj Bhavan release today said.
2:30 pm: The IAF in its rescue operations has established an air bridge from Meenambakkam to Arakonnam, and another between Arakonnam and Tambaram Air Base, nearly 30 kms from Chennai.
"About 120 rescued people were flown to Delhi in a C-130J (Super Hercules) yesterday, while another 100 were rescued from Meenambakam Airport area. We have deployed all necessary assets and the only bottleneck in our efforts is the weather," said Air Marshal S R K Nair, Air Officer Commanding-in-Chief (Training Command).
1:15 pm: Update from our reporter in Chennai on the MIOT deaths:
12:45 pm: Unrestricted development has often been cited as the cause for the ravaging floods. Read our story to see how a green Madras has become a brown Chennai
12:24 pm: Fuel supply has now been disrupted in the city. Read story
11:50 am: Prakash, 35, a friend of Vadivel, who died at the MIOT hospital, said he tried to meet the patient yesterday but was refused entry by hospital authorities. It  was at 10 pm that he came to know that his friend was dead.
Durga Prasad, son of Paramjyothi, a victim, said he came to know of the news through television. His mother was admitted to the hospital after she was injured in the Mangalore train derailment.
11:45 am: Names of the 14 victims at the MIOT hospital are as below:
Chokkalingam from Kovilambakkam
Mohan, 57
Vadivel, 35
Kathir Thomas, 80
Ratnaraj from Vyasarpady
Raghupathy Raj, 67 from Teynampet
Vishalakshi, 74, Adyar
SP Kalayaraj, Annanur
Premalatha, 44
Chellamal, Velachery
Wilson, Ranipet
Paramjyothi, 73, Puthupet in Chennai
Venkatramanan
Vikram
There are 45 bodies at the Royapettah government hospital out of which 14 are from the MIOT hospital.
10:45 am: J Radhakrishnan, state health secretary said all of whom who died at the MIOT hospital were "highly critical". All the patients from MIOT have been evacuated. Some 200 were discharged and another 300 shifted to various other hospitals. The dead bodies were shifted to Royapettah government hospital in the city, he added.
10:00 am: The 14 patients were in ventilator when they passed away early in the morning. The bodies have been shifted to a government hospital. The MIOT hospital, which is located near Guindy on the banks of Adyar river, was already flooded due to the rains.
8:45 am: A sad, sad update from the city. A police report has said that 14 ICU patients at the MIOT hospital have died due to failure of power and oxygen cylinders.
8:30 am: The Armed forces and the NDRF are continuing their rescue operations in the city and suburbs.
Local level updates from Chennai available here, from @ChennaiRainsOrg
Friday, 7:45 am: IRCTC will dispatch 1 lakh bottles of rail neer for Chennai flood victims
Updates from Thursday end
10:02 pm The unprecedented magnitude of Chennai floods confirms time is running out and we must take concrete and urgent action against climate disruption: French foreign minister Laurent Fabius.
9:08 pm 6 flights tomorrow & 6 flights day after will leave from INS Rajali to go to various places: Mahesh Sharma
9:00 pm "In view of the flood situation caused by unprecedented rains in Tamil Nadu, the Union Minister of Road Transport & Highways and Shipping Nitin Gadkari has ordered suspension of toll collection on all National Highways in the state till December 11, 2015," an official statement said.
7:46 pm Private carrier Jet Airways today announced that they will allow 'full refund' or 'free of charge' rescheduling of confirmed tickets between December 1 and December 8, for its Chennai flights.
6:37 pm Idea Cellular has claimed to offer relief to 19.5 lakh customers in the affected regions of Tamil Nadu including Chennai.
5:26 pm
5:24 pm
5:04 pm
5:04 pm I've directed that Rs 1000 crore be released immediately by Govt of India to Tamil Nadu for immediate relief: PM Modi
4:51 pm
4:46 pm The NDRF has doubled the number of its personnel in the rain and flood-battered Chennai and adjoining areas to 1,200 even as it rescued over 5,000 people from the marooned areas.
With the addition of 15 more teams overnight to an equal number of units working since yesterday, the force has begun penetrating deep into the affected areas to aid the marooned including in neighbouring Puducherry.
3:53 pm Prime Minister Narendra Modi arrives at INS Rajali in Arakkonam. #ChennaiFloods pic.twitter.com/wm4bc5jdEv
3:40 pm PM Narendra Modi reaches flood-hit Chennai
3:27 pm Central Govt monitoring situation, providing all necessary help: Environment Min Prakash Javadekar
3:26 pm Air India to operate special flt A320 from Hyderabad to Arakkonam Naval Base to evacuate stranded passengers
3:24 pm
2:15 pm: There are now reports of heavy rains in several areas of Chennai such as MGR Colony.
1:45 pm: Andhra Pradesh and Kerala have received flood alerts from the Met department.
1:00 pm: Andhra Pradesh government assured Tamil Nadu that it would look into its demand of reducing the outflow from Pichatur and other dams in Chittoor district as the flow of water is likely to flood neighbouring Thiruvallur district.
ALSO READ: Food, shelter, rescue — via a website
11:30 am: PM Narendra Modi will be travelling to Chennai to take stock of the situation
11:00 am: OP Singh, DG, NDRF says his force have rescued about 2,400 people so far. More than 100 boats are in operation, he adds.
ALSO READ: Indian Air Force to evacuate stranded passengers from city airport 
9:45 am: President Pranab Mukherjee reacts:
9:30 am: Union Parliamentary Affairs Minister Venkaiah Naidu says he has conversed with PM Narendra Modi and Defence Minister Manohar Parrikar regarding the floods.
Thursday, 7:15 am: Here is a graphic showing the amount of rainfall received in different areas in Chennai
Chennai Floods: Here is what happened

Chennai Floods: Here is how the unprecedented rain played its part. (Data source: IMD)
End of updates from Wednesday
10:00 pm: Tamil Nadu Chief Minister Jayalalithaa will undertake an aerial survey of the flood-affected areas of Chennai city and its suburbs in Kanchipuram and Tiruvallur districts tomorrow.
8:50 pm: Details on food distribution and night accommodations for Chennai:
Breakfast and lunch and dinner being prepared at G.N Chetty Road Jain Temple. 5000 food packets are ready. Anybody who wants to distribute please contact Vineet Jain and his son 9840426263/ Gaurav Jain 98410626262.
The devotees of Gurudwara Sahib, Chennai are willing to prepare food to be distributed to the people in need. Please get in touch with Adman: 9884080037.
Triplicane Mosque Committee are preparing Food for 3000 people.
A team is cooking food for 3000 people in the morning and wants a few extra hands to help out. Contact Saritha, Besant Nagar: 9600045320.
Sathyam Cinemas (Royepettah) will be opened for everyone tonight for accommodation.
Phoenix mall in Velachery are providing accommodation for those stuck in rain. People are requested to carry an ID card.
Those who are stuck near Valasaravakkam, Megamart area, please contact Vignesh Mailappan at 8122829693.
People who are stuck near Camp Road areas can contact Bala at 8056096733.
People who are stuck near Keezhkattalai area can contact Santha at 9042122271.
People who are stuck near Tambaram area can contact Prasanna at 9994816896.
People who are stuck near Mogapair areas can contact Aswin at 7299518047.
People who are stuck near Pallikaranai, Narayanapuram areas can contact Gayathri at 8220738092.
People who are stuck near Pammal Area at Vinoth Sankar 9840280872.
Anyone stuck in Annanagar, Arumbakkam Aminjikarai, MMDA colony, Choolaimadu or any other area can be picked up from Nungambakkan station, Arumbakkam metro station or Anna arch. Contact Brijesh at 9962400760.
Futher list of contacts:
* Anna nagar, Ayanavaram – Ram Prakash – 9884842661 and Divagaran Thiagarajan – 9840680734
* Aminjikarai,adjoining areas – Lakshmi Ashok – 9840799553
* Villivalkam – Manjubashini – 9884360678
* Saligramam – Hari Ramachandran – 9500025950
* Kilpauk – Aravindan Sundar – 9884422922
* Kodambakkam – Krishna Soora – 9500191909
* Chrompet – Venkateswaran Whenghee Sekar – 9789892965, Christopher Gnanadurai – 9841422143
* Vadapalani – Manavalan Km, Suganya Vellaisamy
* Adambakkam – Dhamodharan
* Velachery – Prasanna Karthik
* Alwarthirunagar – Balaji : 9789056768
* Adyar, Thiruvanmiyur – Arvind Aathreya – 9789961681
8:40 pm: Croc Bank says that all their crocodiles are accounted for. There have been no escapes.
8:22 pm: Chennai airport to remain shut till December 6, says Airports Authority of India.
8: 14 pm: Chief Minister Arvind Kejriwal offered all resources at the disposal of the Delhi
government to Tamil Nadu in providing relief to the flood-affected people of Chennai and its suburbs.
7:52 pm: Bihar Chief Minister Nitish Kumar expressed anxiety over the incessant rain in Tamil Nadu and attributed the natural disaster to climate change even as his deputy, Tejaswi Yadav, announced donating his first salary to the victims of the floods.
7:50 pm: Telecom companies such as BSNL, Airtel, Vodafone, RCom and Aircel are offering free talktime to their customers in Chennai.
7:45 pm: Karnataka government announced Rs 5 crore humanitarian relief to rain and flood-ravaged Tamil Nadu.
Chief Minister Siddaramaiah, on a visit to New Delhi, has directed Chief Secretary Kaushik Mukherjee to coordinate with officials in Tamil Nadu to provide medical and all other kinds of assistance
7:00 pm: Indian environment experts attending the Paris climate change summit today said the downpour in the city was an outcome of global warming.
"We are now experiencing the full blown impacts of climate change. The extreme rainfalls that Chennai is experiencing is a direct outcome of our ever warming planet," said Chandra Bhushan, Deputy Director General of Delhi-based Centre for Science and Environment (CSE).
"The global average temperature has increased by less than 1 degrees. Think what will happen at 2 degree temperature increase," he said.
6:00 pm: Paytm is offering free mobile recharges to help Chennai residents stay connected.
To avail the offer, residents can call on 18001030033 and share the mobile number that they want to get topped-up, free of cost.
Inspired by the move, many Paytm users are coming out to help others in their personal capacity by offering mobile recharges.
Those who wish to extend support independently on social media can use the following hashtags on twitter: #ChennaiFloods and/or #ChennaiRains.
5:27 pm: Popular hashtags that Chennai residents are using for real-time updates are #ChennaiRains, #ChennaiFloods and now #ChennaiRainsHelp as the focus turns to flood rescue and relief efforts, with over 500,000 related Tweets in the past 24 hours.
Residents in Chennai are Tweeting with these three hashtags to help in organised rescue operations, aid government bodies, amplify crucial messages to citizens, warn citizens in key affected areas, and provide a sense of real-time support to citizens caught in the floods.
4:40 pm: Prime Minister Narendra Modi took stock of the flood situation in Tamil Nadu and discussed it with his cabinet colleagues, including the Home and Finance Ministers.
"I want to inform the House that today morning the Prime Minister met the Home Minister, Finance Minister and myself discussed the flood conditions in Tamil Nadu. We exchanged information on the situation," Parliamentary Affairs Minister M Venkaiah Naidu said in the Lok Sabha.
4:33 pm: Rains to continue for next 72 hours in Chennai but next 48 hours are very critical as heavy rainfall is expected: IMD.
4:00 pm: As many as 3,500 people, including 1,500 passengers, were stranded this morning at the Chennai international airport, which has been closed for operations till next morning following flooding of the runway.
Airports Authority of India (AAI) said all the stranded passengers are being moved out of the airport, but did not reveal the exact number of those evacuated so far.
3:30 pm: Three army rescue columns reach out to people affected by floods in Chennai.
Army column was able to rescue about 15 trapped civilians in a bus affected by flood waters. The rescue teams have today succeeded in rescuing and bringing over 50 marooned civilians to safety in Gudvancheri and Mudichur.
The fourth column is being rushed in from Bangalore by road.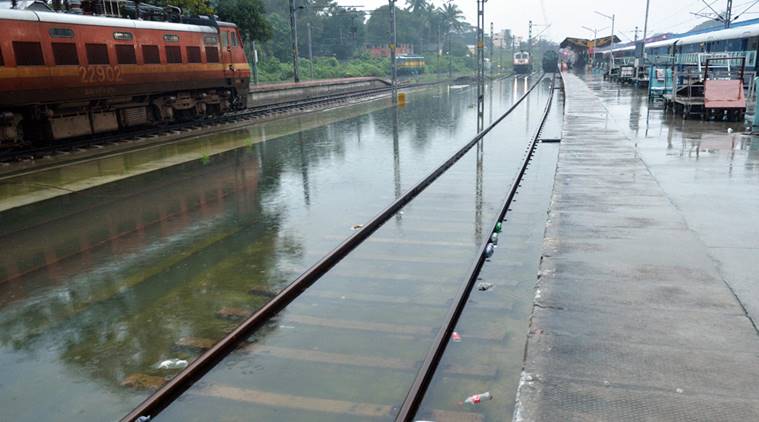 Chennai floods: A view of waterlogged railway track in Chennai. (Source: PTI)
2:30 pm: Here are details of diversion of trains in Tamil Nadu
2:20 pm: Read story about how Airtel is offering free talktime and Internet for people affected by floods
WATCH VIDEO:
2:00 pm: INS Airavat with a total of 11 boats and 20 divers will join rescue operations in Chennai tomorrow.
12.55 pm:
12.40: List of trains cancelled due to ongoing floods in Chennai
12.35 pm: Airtel has announced the following measures to facilitate communication between Airtel customers and their loved ones:
1. Auto approval of 'Talk Time' credit upto Rs. 30 for all Airtel prepaid mobile customers
2. Free of cost Credit of 10 minutes of Airtel-to-Airtel calling for prepaid mobile customers with a validity of 2 days.
3. Free of cost Credit of 50MB mobile data for Airtel prepaid mobile customers with a validity of 2 days.
4. Airtel postpaid and fixed line customers whose bills are due to be paid immediately will get an extended time to make the payment and will experience uninterrupted services.
12.30 pm:
12.20 pm: More heavy rain expected till tomorrow in TN, after which the intensity will decrease but rainfall will continue: Director, India Met Dept.
12.15 pm:
12.10 pm: Navy has been coordinating with local authorities to carry out rescue ops, many teams and relief material have also been sent to the affected areas: PRO Navy.
12.00 pm: With civil communication & mobile towers out of communication in Chennai, Army is resorting to radio communication for coordinating rescue operations.
11.56 am: A reader informs us that around 400 people are stranded at Chennai airport. They reportedly don't have anything to eat and no sign of flights in coming 2-3 days.
11.50 am: The Indian Express journalist Arun Janardhanan, who is in flood-hit Chennai right now, shares a picture of rescue operations.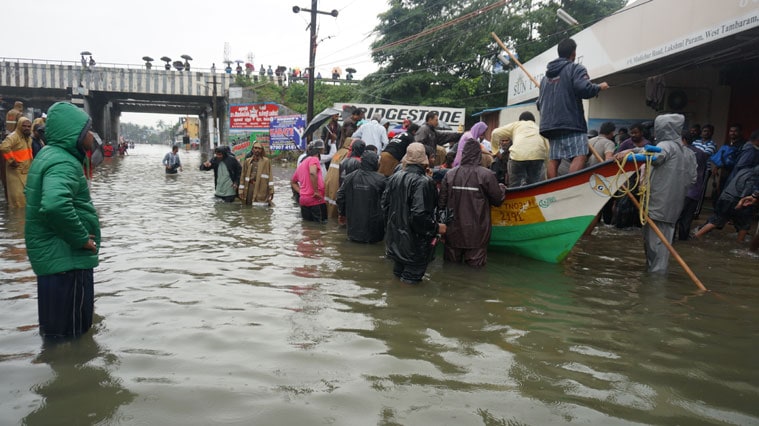 Chennai floods: Early morning on Wednesday, public and local police deployed dozens of boats to rescue over 1,000 families stranded in flood hit areas south of Chennai city. This Pic is from Mudichur near Tambaram. (Source: Express photo by Arun Janardhanan)
11.40 am: Navy Helpline 044-25394240 promulgated and manned 24×7
11.40 am:
11.35 am: Shelter for housing 100 needy personnel kept ready at INS Adyar. Medical team kept standby for deputing at short notice.
11.32 am:
11.30 am: The rain in coastal areas of South India is expected to continue for next 72 hours, says LS Rathore, MeT Dept.
11.20 am: INS Airawat equipped with 5 Jamini boats, 20 divers, lot to relief material, will reach Chennai today late evening or tomorrow morning.
11.18 am: Chennai airport, Tambaram and Arakkonam air bases flooded, fixed wing aircraft will land closest to Tirupathi.
11.10 am:
10.50 am: Chennai Airport will remain shut for operations till 6 am tomorrow
10.38 am: PM Narendra Modi meets Rajnath Singh, Arun Jaitley, Sushma Swaraj and Venkaiah Naidu, assures all possible support and cooperation
PICS: Chennai battered by heavy rain, Army, Navy move in
10:07 am: Home Minister Rajnath Singh says the situation is alarming in Tamil Nadu. He says the armed forces and the NDRF personnel have been pressed into service.
10:05 am: Suresh Kumar, one of our readers and a resident of Rayapuram in Chennai says the floods have affected him a lot. He stays on the second floor but he says the water levels are steadily rising. At the moment, all the cars and motorcycles parked on the road have been inundated by rising water levels.
10:00 am: Over 100 students are stranded inside Dr MGR school for the Speech and hearing impaired. Sudden flooding in the area have raised water levels up to the first floor. Rescue teams and local residents have started rescue operations.
9:50 am: The Chennai corporation has released a few helpline numbers for people affected by the floods.
Tree fall, waterlogging – 1913
Sewage overflow – 45674567, 22200335
State Emergency – 1070
District Emergency – 1077
Electricity – 1912
Fire & Rescue -101
Other office numbers:
1st Regional Office (Tiruvottiyur) – 9445190001
2nd Regional Office(Manali) – 9445190002
3rd Regional Office (Madhavaram) – 9445190003
4th Regional Office(Tondiarpet) – 9445190004
5th Regional Office(Royapuram)- 9445190005
6th Regional Office(Thiru. Vi. Ka. Nagar) – 9445190006
7th Regional Office(Ambattur) – 9445190007
8th Regional Office(Annanagar) – 9445190008
9th Regional Office(Teynampet) – 9445190009
10th Regional Office(Kodambakkam) – 9445190010
11th Regional Office (Valasaravakkam)- 9445190011
12th Regional Office(Alandur) – 9445190012
13th Regional Office (Adyar)- 9445190013
14th Regional Office(Perungudi) – 9445190014
15th Regional Office(Sholinganallur) – 9445190015
9:30 am: Flights operations at the airport remain suspended for now because of heavy flooding on the runway.
9:15 am: Indigo Airlines says all its inbound/outbound flights from Chennai remain cancelled.
© The Indian Express Online Media Pvt Ltd
- See more at: http://indianexpress.com/article/india/india-news-india/live-chennai-hit-by-heaviest-rains-in-a-century-normal-life-thrown-out-of-gear/#sthash.up8E5Kuz.dpuf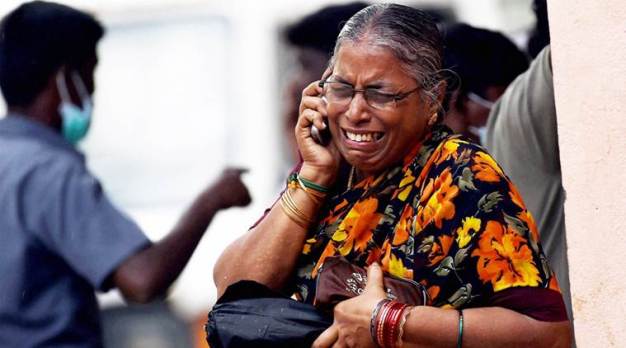 --
Pl see my blogs;
Feel free -- and I request you -- to forward this newsletter to your lists and friends!